Reading Level: Ages 12 and up
Paperback: 458 Pages
Release Date: December 31, 2013
Publisher: Harlequin
Narration: First Person: Avry
Third Person: Kerrick
Genre: Fantasy/Magic
Source: Library
Trailer:
Click Here
The Healer Series
Book One:
Touch of Power
Book Two:
Scent of Magic
Book Three:
Taste of Darkness
Order On Amazon:
Paperback
Kindle
Order On Barnes and Noble:
Hardcover and Nook
Author's
Goodreads
Website
Facebook
Goodreads Synopsis:
She's fought death and won. But how can she fight her fears?
Avry knows hardship and trouble. She fought the plague and survived. She took on King Tohon and defeated him. But now her heart-mate, Kerrick, is missing, and Avry fears he's gone forever.
But there's a more immediate threat: The Skeleton King plots to claim the Fifteen Realms for his own. With armies in disarray and the dead not staying down, Avry's healing powers are needed now more than ever.
Torn between love and loyalty, Avry must choose her path carefully. For the future of her world depends on her decision.
My Review:

Cover Thoughts: I like this cover a lot more than the UK edition. At first glance, it may seem like just another one of those covers with girls starting off dramatically into the distance, but the lilies at least bear relevance to the plot. I didn't see much importance of the cup in the novel, but I get how it ties in with the title. A Taste of Darkness. Get it? Witty.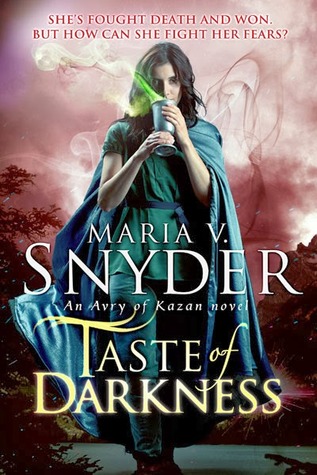 I had a really rough start with Taste of Darkness, which is unusual since Snyder is one of my favorite authors. There wasn't anything necessarily wrong with the beginning. It was just hard to get into, because I only remembered a few of the main characters. It's been a while since this series began, so this didn't surprise me. I saw a few attempts here and there to jog the reader's memory on past events, but overall, my knowledge was limited. Because of this, I had to constantly stop and wonder about who this character and that character was. This really messed up my reading flow. However, after I reached page 150, things got smoother. I started to remember some of the minor characters and got the general gist of the characters that didn't have much of a role.
The humor wasn't as funny as it used to be. To be honest, I was a little disappointed with it. There were a lot of jabs and pointed remarks between the characters, but I wasn't feeling it. The majority of the jokes had me rolling my eyes or facepalming.
"But they fight in the name of the creator."
"I don't care if they fight in the name of broccoli. The goal remains the same."
This was the funniest line in the book. Depressing, isn't it?
Adding to my irritation, it also seemed like there were countless times when other characters shockingly remarked of how brave or how awesome or intelligent Avry was, when in fact, her brilliant "epiphany" was something that anyone could've figured out. For example, there was this one time when Odd, a renowned sergeant in an army marveled at how general like Avry was when she suggested contingency plans for a mission. Dude. Your a sergeant. You should ALWAYS have a backup plan if something goes wrong. It shouldn't be up to someone else to tell you.
The writing also grated on my nerves. I'm not sure if it's just that I've grown as a reader or because the author's writing style changed, but it felt rough and disjointed. Many things were explained weirdly, to the point where I still don't know what it was trying to say. And other sentences felt awkward on my tongue.
Other then that, I enjoyed the novel. It wasn't as good as I had hoped, but it didn't feel like a waste of time either. Snyder wrapped things up nicely, although I do wish we got to know more about Belen, Flea, and the monkeys at the end of the novel.
Cover- 4/5
Heroine- 3/5
Romance- 3/5 Meh.
Action- 3/5
Humor- 2/5 There were a lot of failed attempts.
Writing- 2.5/5 Awkward writing.
Setting- 4/5 Your everyday fantasy landscape, but the lilies are unique.
Overall- 3/5